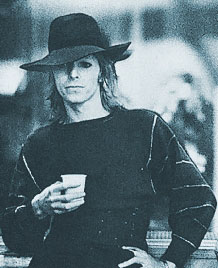 Är det bara jag som inte hör David Bowie hos The Ark?

T. Rex

, okej. Queen, okej. Slade, okej. Sweet, okej. Gary Glitter... Till och med Kiss är mer närvarande hos Rottne-bandet än David Bowie.

Inte ens när Bowie var som mest glamourös och glittrig lät han så konventionellt tuggummipoppig som The Ark alltid gjort och fortfarande gör på "Prayer for the weekend". Icke desto mindre är det en väldigt

trevlig

skiva Tracks-pop med smink.

Treeeeeevlig

.